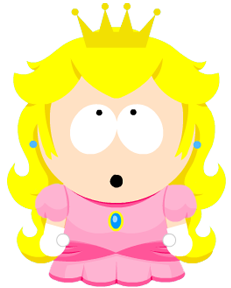 You voted for her, so here is her costume: Princess Peach, well known from Nintendo's Super Mario games.
I included her long hair and the pink dress.
Unfortunatley there is one little problem with this costume… long hair-styles always cover the puffed sleeves. This is something I cannot change easily, because the SP-Studio items are layered in a strict order. But I will try to find a solution someday.
The next and final videogame related update will be Dante from the "Devil May Cry" games. You voted for it, so I will draw this costume for you :).