Hi! My name is Janina and I am the creator of sp-studio.de. I live near Frankfurt (Germany), work as a freelance designer and enjoy video- and boardgames, drawing, movies and entertaining my dog. The SP-Studio is a personal project I started back in 2002 while still in school. Back then I used Macromedia Flash (now Adobe Animate) and my goal was to inspire others to be creative. To my own surprise my little project became a big success and visitors from all over the world use it. During its best times there are over 100.000 visitors per day. Even though I am no programmer, I always tried my best to improve the SP-Studio. I am only limited by the time I can spend, since this is not my actual job and of course I need to earn money. With my Patreon campaign I hope that one day I can work more on the SP-Studio if I get enough supporters.
2020 changed a lot, because Flash files stopped working. After many years of working alone I realized I would not be able to continue this way, because a complete rework was necessary to let this website survive. To my luck my wonderful visitors supported me with donations. Because I cannot code without Flash I searched for a professional developer – and I was lucky again!
Lars Gerrit Kliesing (LGK) coded the new SP-Studio in React and it was released on December 21st 2020. Read more about it here and visit Lars' website. He did an amazing development job, it's a pleasure working with him and the new version is way better than the old one. My biggest thanks to Lars, because without him the SP-Studio might not exist anymore!
I also want to mention Jareen2 and Eggyslav who are my trusted moderators in the forum. They have been active for more than ten years – and in addition they are among the most skilled and creative SP-Studio picture creators. Jareen2 also helped me moderating my Twitch livestreams I started during the Corona pandemic, launched a Discord fan server for the SP-Studio and so I consider him my right hand when it comes to community management. Thanks to both of you for your help as moderators, betatesters and emotional supporters!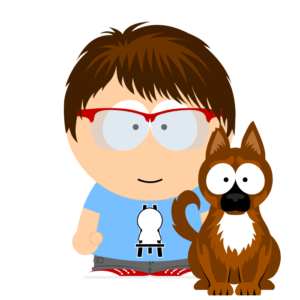 Janina Himmen
(Zwerg-im-Bikini)
Creator of the SP-Studio and website,
updating it with new items since 2002.

Jareen2 & Eggyslav
Loyal moderators of the SP-Studio
forum since 2011/2012.
Jareen runs a
Discord
server since 2021.
Translations
Dutch provided by Jareen2.
Spanish provided by this weirdo (link to his Discord server).
Slovenian provided by SP-Simon.
Italian provided by Jabilo (Ivan Pellegrini).
Portuguese (BR) provided by Artsy the Creator.
Some parts were added with the help of Deepl.
Do you want to see the SP-Studio user interface in your own language? Drop me a message and I will be happy to include it.
SP-Studio History
Visit the old Flash versions of the SP-Studio in the archives.
2001: As a big fan of the tv show South Park I start drawing friends and celebrities in its unique style. I still offer special drawings like this today, so feel free to have a look at this gallery if you are interested. Because of this love for the South Park art style in 2001 I want to create a game with Macromedia Flash, so everybody could create their own look-a-like without the need of drawing skills. Flash was a powerful tool which allowed me to code everything on my own, even though I knew nothign about coding.
2002: The first version of the "South Park Studio" is released on my German South Park fanpage planearium.de between January and June. I don't remember many details about the beginning – not even the launch date. But people liked it. As far as I know it was the first browser game to allow you to create your own South Park characters.
2003: Around the year 2002/2003 the official South Park website shows interest in my project. They use it with my permission to promote the new season of the show. This version is recolored to red instead of blue. I receive personal autographs from Trey Parker and Matt Stone as a thank you. Unfortunately the official website deletes my name after my while, although our deal was to keep it. This leads to confusion among some fans which character creator was first. Later on a official character creator was developed and only some of my drawings remained in it.
2004: In December we see the first big SP-Studio update with a new design! Version 2.0. The menu guy is introduced so it does not rely on pure text anymore. Now it is possible to move and delete every item by clicking on it. More than 100 new items, custom colors and a text tool are included as well. "Hair" and "Hats" are divided into separate categories, so from now on it is possible to combine them.
2005: More skin colors. Before this update many dark skinned visitors had problems to find the right color shade.
2006: I buy the domain sp-studio.de because of to the growing success of my little project and it gets its first own website. Very ugly. The only other thing I remember from this year is an upgrade to 36 hair colors.
2007: In June a huge update with 250 new items is released. Apart from the relaunch of the new (React) SP-Studio this is the biggest update of all time. For Halloween a creepy update with 45 items is following. In November a record is set with 62.755 visitors per day! It will remain until February 2023. The funny thing is there was no way to communicate with this big community. No social media, no blog comments, no forum… so I did not really understand what this huge number meant.
2008: Version 3.0 is released. The ugly homepage gets a nice redesign and a new Logo. Finally a save button is included… but unfortunately it only works for about a month. Very frustrating. But 50 new objects, more colors and a new text tool are also included. A newsletter is launched in September (German and English). An annual tradition starts in December 2008 with the first Christmas Special: 24 items are added based on your wishes. I ask for ideas and the feedback is absolutely overwhelming. Over 5.200 e-mails reach me within a month! So I decide to continue with the Christmas specials and to do more for the community.
2009: In 2009 I install a blog software for the SP-Studio, so from now on it is possible to write comments. I start to release more smaller updates. New categories are introduced during this year: Animals and fashion accessories. The freestyle collection now lets you combine clothes in three layers.
2010: A FIFA World Cup special with shirts for all teams is very popular. And in September version 4.0 is released! After long weeks of work the whole website looks better than ever. Many design changes, scroll bars replace the single pages and the SP-Studio becomes a bit bigger. Finally the save button is back and working! Big thanks to Stephen Townsend who fixed it for me. The "SP-Studio Community" is launched with a first picture contest. It is a new place where SP-Studio fans can share their pictures and discuss wishes for new items. The contests will become a monthly tradition and the feedback from the community becomes a very important motivation for me. In October I create a Twitter account for the SP-Studio. This is the first Social media channel.
2011: I delete the German version of the SP-Studio which I was running until now, because it's too much work to update two versions. Facebook is conquered and later on Google+. For the first time items based on the "wish voting" gallery are included in a big update. In November I try to include a small update every week, but I cannot keep up with it for long.
2012: While drawing many small updates I make a huge change to the SP-Studio Community. New software and a forum! Unfortunately I cannot import the old accounts so everybody has to register again. But the pictures are saved. I give up the newsletter. In May I celebrate 10 years of the SP-Studio! New items for every category are added.
2013: For some months I concentrate on video game costumes. In March the main page is updated, because I want the news to show up more prominently than on an extra blog page. Some old comments are lost but the new blog software (WordPress) makes things easier compared to my old Serendipity installation. Mixed smaller updates follow.
2014: Special updates for Doctor Who and Sherlock are included. The "stuff" category gets a big makeover with more sub-categories. After 6 years of the same design a new website is launched with a modern look and responsive layout: Version 5.0! We also have an animal month with several new animal body parts for your characters (including My Little Pony items).
2015: I want to quit copying original South Park items, so I do a final South Park related update. More unique items should be drawn in the future instead, because they are more fun. In April I launch my Patreon page where you can support SP-Studio.de with monthly donations. In May the SP-Studio color palette grows from 100 to 200 colors. For a summer upsate an improved item menu lets you recolor and rotate items. The save function allows you to save the pictures in a bigger size now. And a full screen mode is introduced.
2016: This year sees several pop culture related updates, like Disney Princesses, Star Wars and Super Mario. The shirts are split into 4 instead of 2 categories, so it's less chaotic. In the "dresses" category you can move your cursor over an item now to learn about what it was inspired by. Actual descriptions for all items will not be included until 2020. A new button is included which allows you to switch the highlights and shadows on and off for the hairstyles. Some fans prefer the flat look, others the more detailed shading.
2017: Futuristic armour, sport items… and from May to August many costumes for famous super heroes are included.
2018: Because of the close death of Flash a complete rework of the SP-Studio becomes necessary. It will be very time consuming and donations are needed to make it possible. But of course there are still regular updates while I work on this. Wallpaper backgrounds with different patterns, winter fashion, more gaming consoles and costumes inspired by classic cartoons.
2019: After the old forum crashes in October I change from PHPbb to Woltlab Burning Board. Jareen2 and Eggyslav are the only remaining moderators. Among other updates this year brings a lot of summer fashion. And I still try to figure out how the SP-Studio can survive without Flash. Lots of frustrating setbacks.
2020: During the Corona pandemic I release a special update with masks and start to stream on Twitch, drawing new SP-Studio items for those in lockdown. In September Lars Gerrit Kliesing (LGK) starts to code the base of the new SP-Studio in React. I am so glad he wants to help! The final regular updates for the Flash version are a Science Fiction update and Medusa hair. On December 21st the new SP-Studio launches after three years of preparation! It is just in time because Flash stops working on December 31st. The new SP-Studio brings many improvements like being mobile friendly, an improved user interface, more recolor options, names for all items, png export with transparency, a saving/loading system and the new "lock" button which lets you combine all items.
2021: My main goal for the first half of 2021 was to bring back all the old items from the Flash SP-Studio. Because of health problems this takes longer than expected, so I also add a couple of new items in between. Lars codes a button to turn on and off shadig and highlights. In the old SP-Studio this only worked for the hair – now it works for way more items. He also makes it possible to switch languages for the SP-Studio. Soon fan translations for Spanish and Dutch are inlduded. In September SP-Studio forum moderator Jareen launches a long Discord fan server for the SP-Studio with my permission and I have a interview with Starterstory.com about the history of the SP-Studio. The Wish Voting gallery and the Christmas Special return.
2022: The year starts with a couple of updates I had planned for a long time: Steam Punk, Mechanics & Medicine and Work & Business Fashion. In August Lars codes a new improved text tool, so now all functions from the old Flash version have returned. During September I celebrate the 20th birthday of the SP-Studio! Pride pins and hobby tables were othe rupdates from this year.
2023: In February the SP-Studio becomes a popular TikTok trend which leads to a sudden rise in visitor numbers. A new generation of fans discovers it, and this is amazing! 🙂 I have to boost and protect the server, but then everything runs smoothly again. Since most of these visitors use mobile phones I optimize the mobile version of the page. More then 100.000 visitors per day are an all time record for the SP-Studio and even top the first big SP-Studio hype 15 years ago.