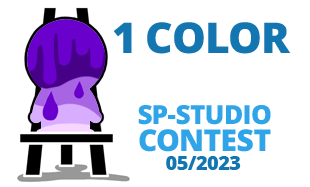 Since 2010 we share our unedited SP-Studio pictures in monthly contests. Every month has a special topic. Just upload your picture on the contest page – no registration required. After the submission phase on the 20th of the month all pictures show up in a public vote. Then you decide which used the SP-Studio in the most skillful way. The TOP 5 join the HALL OF FAME!
Please vote fair, this is a creative challenge for fun. 🙂
TIME TO VOTE!
Thank you for uploading so many cool pictures. That is a new record! You cannot submit more for this month, so let's have a look at the gallery and decide which are the most creatiove ones. "Heart" as many pictures as you like! You can also write comments. Please vote fair. Only submit your vote once. Of course you are allowed to share the contest with others. But please don't tell your friends to vote for you because you want to win. Tell them they should vote for all the pictures they like best. We want this to be fun, so cheaters will be disqualified.
HOW CONTESTS WORK
CREATE a SP-Studio picture by using mostly shades of one color
UPLOAD your unedited picture until May 20th
Until May 31st everybody can vote for their favourites
NEW: A jury vote will be combined with the public vote.
The winners will be announced in early June
RULES FOR PICTURES
05/2023: This month's challenge is something special: Your picture should consist mostly of shades of a single color. Red, blue, green, yellow, pink, brown, grey… choose one and try to stay in this range. It is allowed to have tiny parts in different colors, but not much. If your picture does not count I will inform you in the comments of this picture. The image motif can be chosen freely, so OCs are allowed this time. Don't forget to add a fitting background. Plain color backgrounds can be found in places / abstract backgrounds.
Please remember: You are only allowed to use the SP-Studio, so do not edit with additional software (no cutting, drawing or filters). Of course it must be your own creation. When you upload your picture always add a title and your name. Registration with an e-mail address is optional. Important. This is a creativity challenge – not a popularity contest for fandoms / franchises. Please vote fair.
RULES FOR VOTING
Everybody can vote after the submission phase is over. Please stay fair. This is no popularity contest, so don't tell your friends to vote for you. Do not vote multiple times under different names. Cheaters will be disqualified. In addition to the public vote a jury was introduced n May 2023. The jury vote counts about 40%, while the public counts about 60% for the final results.
The SP-Studio jury members are: Art Vandelay, DavidSchwarz, Eggyslav, Janina, Jareen2, Paul/Tony Maroj, SpookyRookie. The jury members were selected by Janina because they are active members of the community and experienced and trustworthy SP Studio artists. They are mong the most active forum members for years and know the SP-Studio and the contests very well. So they have a good eye for how much skill and creativity went into a picture. This is often difficult for newcomers to assess. Unfortunately, there have been many cases recently where, for example, pictures were chosen only because they were inspired by a popular franchise. Therefore the jury vote was introduced to make the final result fairer for everybody. Jury members are still allowed to participate but are not allowed to vote for their own pictures.
Congratulations to the recent winners!